Good Eats!
While Pittsburgh is attracting global headlines for its economic redevelopment and excellent quality of life, a delicious side effect of the revitalization is a growing restaurant scene that's earning the city national acclaim. Food lovers of all kinds are taking notice. 
As an area made up by a true "melting pot" of ethnic traditions and new influences, metropolitan Pittsburgh has always offered its share of classic Polish, Italian, German and other European restaurants and food shops. More recent influxes of Asian and Latin American cultures, along with Pittsburgh's growing young professional population, continue to shape the restaurant landscape in every neighborhood. 
Part of Pittsburgh's food scene is a revitalized interpretation of contemporary American cooking. Modern twists on local and seasonal foods, fueled by the greater availability of farm-fresh foods from area producers, means greater visibility for the delicacies of western Pennsylvania.  
Whatever your food favorites might be, following are some must-see—and taste—destinations for food lovers everywhere:
Cure
5336 Butler St, Pittsburgh, PA 15201
Cure is a destination spot in Pittsburgh's trendy Lawrenceville neighborhood, and the restaurant's prices match. But the James Beard Award winner is worth every dollar if you're a fan of Italian-style cured meats (a house specialty), eclectic pastas, fresh seafood, and locally sourced meats and vegetables of all kinds. A fantastic wine list and intimate bar add to the rustic decor accented with various tributes to the pig, which is clearly a favorite of Chef-Owner Justin Severino. 
Morcilla
3519 Butler St, Pittsburgh, PA 15201
Morcilla is Cure's sister restaurant, where the kitchen is overseen by Severino and a team offering classic Spanish dishes with local twists. The restaurant just opened in 2016 and has already garnered acclaim from Food and Wine magazine as one of the nation's top new restaurants. Make a meal of the kitchen's many small-plate offerings just blocks away from world-class coffee at Espresso a Mano, a variety of boutiques, and the Roberto Clemente Museum, where the late great Pittsburgh Pirate is honored with private tours. 
Dinette
5996 Centre Ave, Pittsburgh, PA 15206
Dinette in newly revitalized East Liberty is another stop for fresh takes on regional Italian and other Mediterranean foods. Chef-Owner Sonja Finn is known for her thin-crust pizzas, fresh salads, and constantly changing seasonal menus. The small dining room has a casual vibe and seems as popular with area families as it is with couples and singles. Theres even a small bar when friends, couples, or solo diners can order fine wines by the glass. (Hint: be sure to ask what Finn is serving from her seasonal vegetables grown on her rooftop vegetable garden!)
täko
214 6th St, Pittsburgh, PA 15222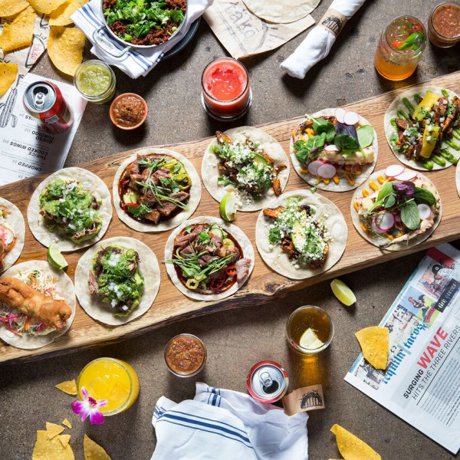 In Pittsburgh's downtown Cultural District, one of the hottest restaurants is täko, another new arrival that bends the rules, and deliciously so. At täko, diners can expect a completely non-traditional approach to the classic regional Mexican food. The kitchen is led by Chef-Owner Richard DeShantz and combines fresh ingredients within the basic taco format to combine Latin, Asian and, and other "global modern" flavors into a fusion of good eating. There's even a full bar with spectacular cocktails and classic sangrias. 
Union Standard (coming soon!)
Union Trust Building, 524 William Penn Place, Pittsburgh, PA 15219
Union Standard is a highly anticipated restaurant from noted local chef Derek Stevens, recently of The Strip District's Eleven restaurant. Local food lovers are abuzz with the spot—expected to open this fall—based solely on the great reputation of Stevens, who headed the Eleven kitchen for 10 years before striking out on his own. Union Standard promises a wood-fired grill and rotisserie, a raw bar, and an eclectic American menu. The restaurant will be part of the historic Union Trust building following a complete renovation that preserves the Pittsburgh landmark. 
Southern Tier (coming soon!)
316 N Shore Dr, Pittsburgh, PA 15212
Looking for more options? Fear not. A good one will undoubtedly be Upstate New York's Southern Tier Brewing Company, which is bringing its first-ever Pittsburgh location to the city's North Shore. Located just a foul ball's distance from nearby PNC Park (home of the Pittsburgh Pirates) and mere blocks from Heinz Field and the NFL's Steelers, Southern Tier's new Pittsburgh brew pub is set to open this fall. The new spot will bring the craft brewer's ales and lagers to the Steel City with the addition of exclusive beers brewed only at the new Pittsburgh brew pub.